Smart Forms
Perform easier manual transfers by using our new remittance forms.
Making Telegraphic Transfers or Local Bank Transfers will be simpler and more convenient for you if you use the new Smart Forms. The Smart Form will capture all the payment details and encode the information into a 2D barcode upon printing providing you with added accuracy and security.
We understand your needs
This is the solution for you if:
You make regular manual payments via paper forms to fulfill your company's requirements for a physical signature to authorise transactions.
You want to improve the accuracy and efficiency of your payments if you are currently sending payments via instruction letters or Excel forms.
Benefits
What are the benefits?
Reducing human error:
Manual errors are minimized as data is keyed in electronically with contextual syntax validation; mandatory fields are clearly indicated for ensuring that forms are completed before submission
Greater security:
A unique 2D barcode, containing details of your payment instruction, is generated each time a Smart Form is completed and printed.
Easy to use:
The Smart Form is simple to use and only requires Adobe Reader v9.0 or above which can be freely downloaded from www.adobe.com.
Greater efficiency:
Clients can create and save templates for different types of payments for future use
How does it work?
Click here to download the latest version of the Smart Form.
Use Adobe Acrobat Reader® to enter your payment details, After completing the form, click on the Print Button to generate the 2D barcode on your printed form.
The printed form should be signed and submitted to the Bank.

You are encouraged to download the form each time to get the latest version.

For further queries, please contact your Client Services representative at:
Thailand : +662 017 8635

Download Smart Forms
Thailand – Smart Form
*If you are using browsers such as Mozilla Firefox and Google Chrome, download the Smart Form by right clicking the link and choose 'Save link as' and open it with a PDF reader.
Steps to access this form:
1. Right click and save this PDF on your computer
2. Open the saved PDF with Adobe Acrobat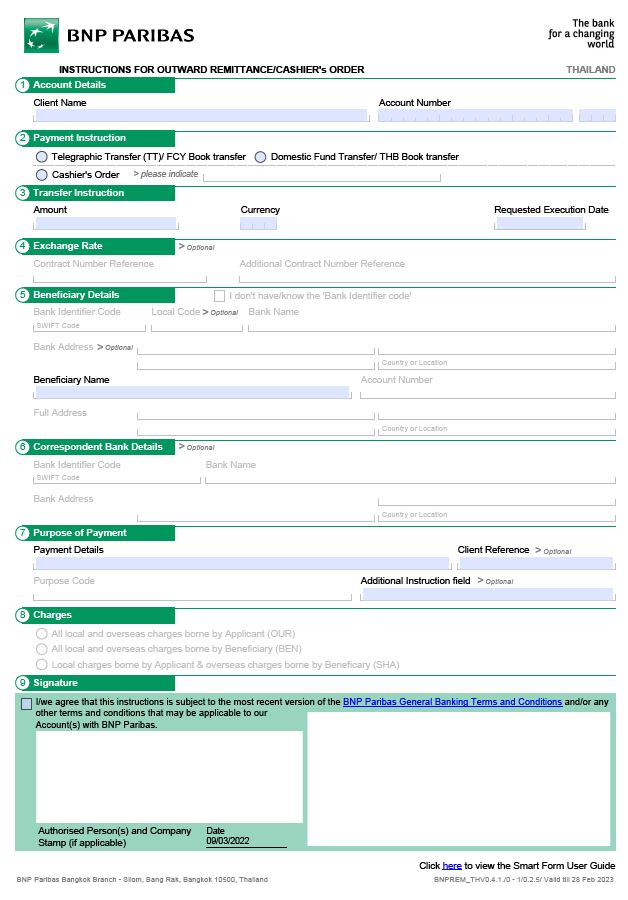 Highlights
Simpler input:
Context sensitive input with dropdown boxes for selection.
Minimise inputs:
Mandatory fields indicated and populating of additional information for some fields.
Reduce errors:
Field validations are available within the form to prevent avoidable errors before submission.
Guided steps:
Mandatory requirements for input indicated with hints to help you with your payment creation.
Pricing
Smart form transactions will be considered as electronic transactions.
Cut off times
Smart form transactions cutoff times will be the same as manual transaction.
Smart Form User Guide
Thailand – Smart Form User Guide
Smart Forms Best Practices for Businesses – Download here